How to Use My Farm Records
County Farm Centre Online Account Access
County Farm Centre is pleased to announce the launch of My Farm Records – a website where our customers can view their account details, invoices, statements and more. My Farm Records is fast, easy-to-use and accessible from any connected device. below are instructions on how to get signed-up and how to use the service.
How to Sign-up for My Farm Records
Click here – fill out and submit the form to request access. If you have multiple accounts, they can all be added to a single login.
Once we have created your account, you will receive a notification email that your account is setup and ready to use.
Once your account is created. Go to mfr.countyfarmcentre.com and login with your username and password.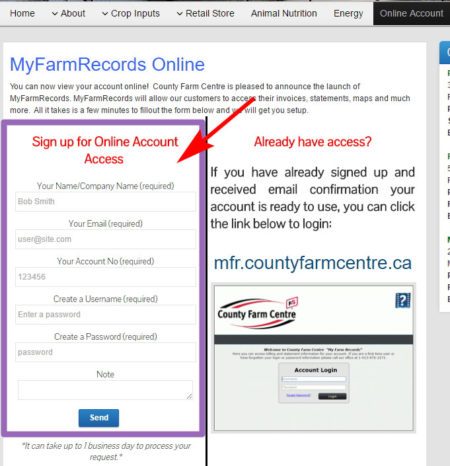 How to use My Farm Records
After logging in, a page loads displaying all linked accounts with balances. If you have multiple accounts, they will all be listed here. If one of your accounts is missing, please contact support at the bottom of this page.
Click the blue account number to view details for that account. Only one account can be viewed at a time. Account details can be restricted by date range to quickly locate the transaction you are looking for.
Invoices and statements have a PDF icon beside the invoice number. Click this icon to view a printable copy of that invoice. Alternatively, click the "View All PDFs" button to display only transactions with a printable PDF.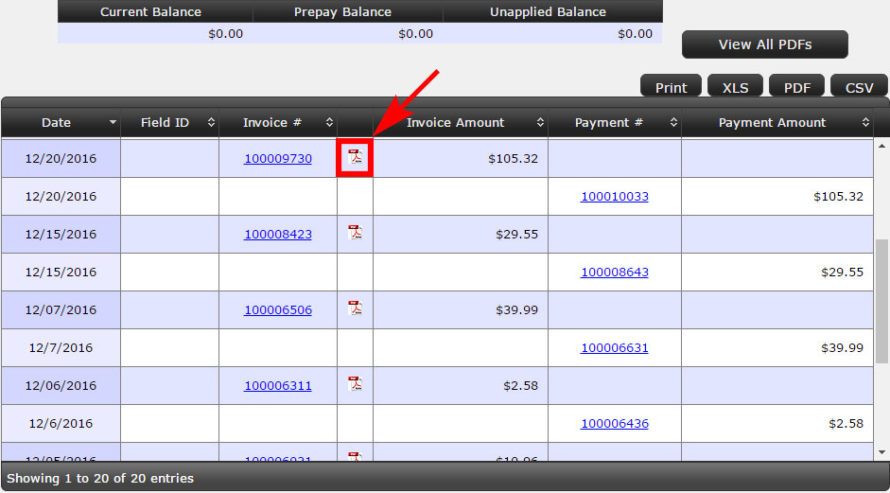 Personal information including email and password can be changed from your user profile. Access your profile by clicking your name above the logout button.
Important: Changing your address in your user profile DOES NOT update County Farm Centre's main customer database. You still need to notify us if your address changes.