3-IMPORTANT reasons to notify us when updating or adding propane appliances.
We need to update your overall usage as this would affect your delivery interval.
As your propane supplier, we need to ensure that your new or updated appliances have been properly installed.
Confirm that your technician has gas tagged the appliance. As per TSSA regulations 6.22.6. (it is the law)
To update your account with new appliance information call 1-866-924-2322 or email energy@countyfarmcentre.com
On September 1, 2022, County Farm Centre and Greer's Propane Service amalgamated. Welcome Greer's Propane customers!

County Farm Centre provides reliable propane delivery for home, farm & commercial customers.  Our professional office staff are always ready to assist you with your FS Propane needs and our skilled, friendly drivers will ensure your deliveries occur on-time.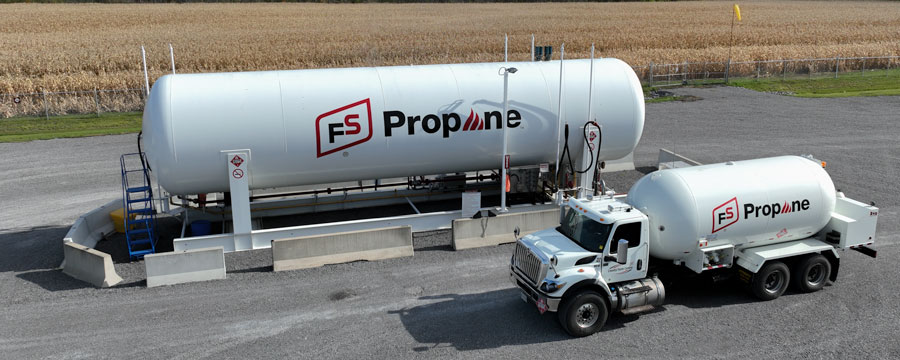 FS Propane is a safe, efficient, versatile, low-emission Canadian energy.
The key to safety for all fuels is proper use and handling. Propane's characteristics, along with the regulations applied to the equipment, training, storage and handling, make it one of the safest fuels for propane heat. Visit our Propane Safety page for more info.
In order for us to service our customers in a timely manner and to keep our drivers safe, please ensure that your driveway and access to your tanks are cleared.
We appreciate your business and will work with you to ensure that you are satisfied with both propane as a fuel and our company's levels of service. Our customers are our number one priority.
If you ever have any questions or concerns regarding your FS Propane delivery, please contact us.
Turn your thermostat down a few degrees while in the home, and turn it down while you are away from home. A programmable thermostat will do this automatically.
Reduce the use of hot water, including using cold water when doing laundry and taking showers instead of baths.
Protect against drafts by caulking and weather stripping around windows, doors, and other openings such as ducts, fans and vents.
Reduce water heater temperature setting.
Keep curtains and blinds open to receive sunlight during the day, and close them at night.
Turn off fireplaces if they are only used for secondary heat or atmosphere.
Hang clothes on a rack to dry rather than using a dryer.
Why do propane prices fluctuate?
When demand spikes dramatically, logistical challenges make it difficult to restock supplies quickly. This difficulty is intensified when winter weather creates dangerous road conditions.
Subsequently, North American propane wholesale markets are bid higher, with stretched supply and demand from many geographical regions and industries.
Propane wholesalers and retailers are forced to pay higher prices.
As a result, consumers see the impact of these higher wholesale prices in their per litre invoiced cost.