This page is for the filling and refilling of portable propane cylinders.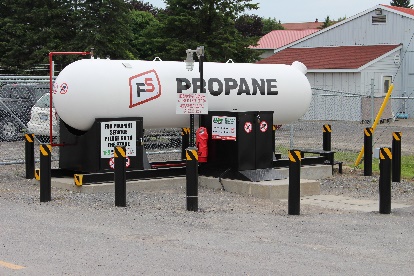 The Picton County Farm Centre is equipped with a propane refill station for filling approved cylinders. We refill most types of cylinders up to 100lbs. All cylinders are filled by weight and we charge by the pound. Our Picton site does not have a cylinder exchange program – new tanks must be purchased. The filling station is open during normal business hours.
Our Madoc store offers 20-LB bbq cylinder exchanges.
Belleville does not fill or exchange propane tanks at this time.
How to find the expiry date on your cylinder:
Water Capacity (WC) – The water holding capacity of the tank (volume). Measured in pounds.
Tare Weight (TW/T) – The weight of the tank when completely empty. If preceded with a T, the units are in kilograms and a TW signifies units in pounds. The tare is used to determine how full the cylinder is.
Cylinder Expiry – The original manufacture test date is generally shorter than a retest stamp. There are two sets of numbers divided by a hyphen or other symbol. The first number is always the month and the last is the year. This tank was manufactured in June 1975 and would have expired in June 1985.
Propane Capacity – Some tanks have their propane weight capacity stamped on the collar. The filler uses water capacity for determining the tanks true propane capacity.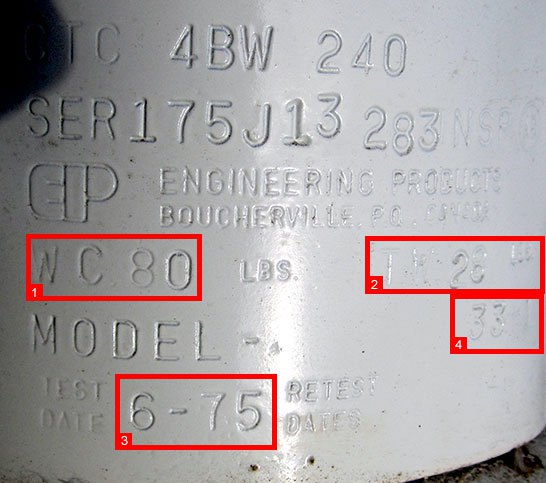 Requalify/Retest Expiry – Each time a cylinder is requalified, it receives a new date. Expiry will be 10-years from the most recent date. Most requalified dates are followed by an "E" for EXPIRY. First two digits are month and last two before the E are the year. The tank below was re-stamped on March 2013 and will expire March 2023