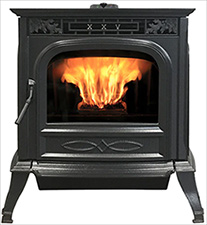 Pellet stoves have been around since the 1970's and have become popular in times when the price of traditional fuels spike. To create wood pellets, producers remove moisture from wood, grind the fibers into dust, and compress the dust. Through the process of pressure and heat, pellets are formed—typically with a 6 or 8 mm diameter, and a length of up to 40 mm. Pellets can be produced from wood waste such as shavings, and sawdust, as well as recycled wood materials.
How do they work?
Most pellet stoves work by adding pellets to a "hopper" bin, and a mechanism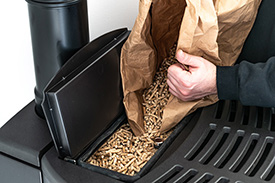 dispenses the pellets automatically for burning. Depending on your model, you typically have options to have self-starting and temperature control, often with a remote control. The stove will then automatically dispense wood pellets into a burn unit. Pellet dispensing will slow or stop once the desired room temperature is met. Important to note that in order for the automation to work, a small amount of electricity is required, so in a power outage a power backup supply will keep the unit running.
Efficiency
One of the main advantages of pellet stoves is their high levels of efficiency. Whereas a typical high-efficiency wood stove can be 60-80% efficient, a pellet stove can reach 90% efficiency. In fact, pellet stoves are the cleanest solid fuel, residential heating appliance.
Convenience
Using wood pellets is a much easier process than traditional wood stoves. Pellets are easy to handle – simply fill the hopper and set the temperature and the stove takes care of the rest. Automatic lighting removes the need to have kindling. By avoiding traditional cut wood, you won't have to worry about bringing insects into your home. Having a local pellet supplier means you don't have to store a huge amount of wood for the entire season.
No Traditional Chimney Required
The efficiency of the stove removes the need for a traditional chimney. Particulates and smoke will still need proper ventilation. To ensure proper ventilation and installation, a professional installer should be hired.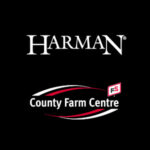 Considering a Pellet Stove?
County Farm Centre carries both wood pellets and stoves by Harman Pellet Stoves. Drop into our store on 38 Cold Storage Road in Picton to see some of the display models and talk to our staff about wood pellet stoves.